The Face of FFFWeek™, Nina Taylor & a Coat Giveaway from La'Dan's!
posted by Addi Enne, FFFWeek Internal Blogger, www.thecurveandtheline.com on 27. Apr, 2011
Five Questions For…Nina Taylor, Face of FFFWeek™
Nina Taylor is more than just a lovely face.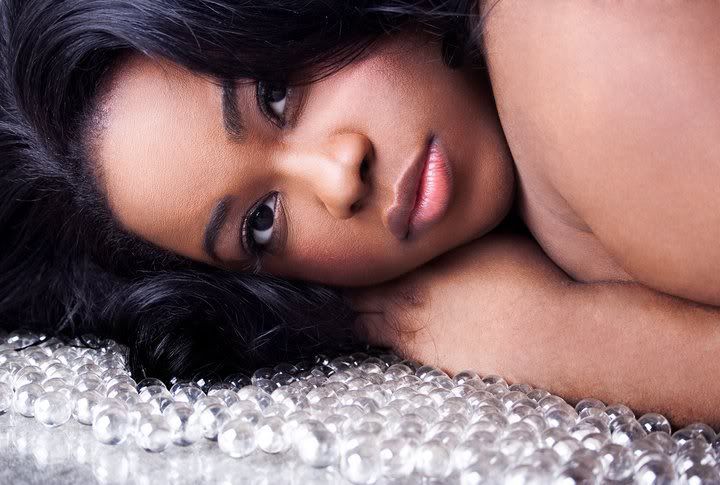 She's a pageant title winner, a graduate degree holder, a mentor, and volunteer. According to her bio, she's also a thespian, a public speaker, clearly, very accomplished and must not sleep very often.

How did this up-and-coming force in the full figured fashion industry manage to accomplish so much, so quickly? Read on to find out!


In addition to being successful plus-size model, you are also a medical professional. What inspired you in your career choice?
My nephew inspired my choice to venture into Medical Education. I've always had an interest and gift in science. I initially thought that I would be a scientist, and I spent a year at the United States Department of Agriculture as a student researcher and I realized it wasn't for me. I was far too social to be in a lab by myself all day. When my nephew was born he was the most amazing thing I've ever seen. At a little over 2 years old he was hospitalized at Children's Hospital in DC. He was not only showing signs of autism but had significant developmental delays. I spent most of my days and many nights in the hospital with him, working with the doctors to try to figure out what was wrong with my favorite little guy. He had an entire GI team working non-stop, running test, throwing ideas around and I started to do some research myself. I found a Gastroenterology society close by and they had an opening in their education department. It was a great fit because I was able to be social, travel, and work with some of the key opinion leaders in the field. I outgrew that institution and wanted to take my talents on a higher level to give myself a challenge. I've been with my current organization for almost 3 years now, I still travel a lot, I work with some of the brightest people in Medical Education, no day is the same, and I love it. So I credit my awesome little nephew for my career path.


Tell us about your road to the runway—how did you find your place in the modeling industry?
Someone else saw a model in me, I did not see it in myself. So my start was evoked by someone else. After my first official photo shoot I was excited, and I wanted to learn more. So I checked out Youtube, started reading blogs, I really did my research. I dug very deep to find out information about the plus modeling industry. I was also extremely honest with myself. I am short so some of the opportunities I counted out because I didn't receive the genetic gift of height. I lost 58 lbs, because I really needed to thin out my face. Then I started networking and putting together a team. I was extremely selective with the photographers I worked with. Through those images people started to take notice, and from there the opportunities presented themselves. It was a lot of hard work, but I loved it because I was able to balance my creativity with my education driven career.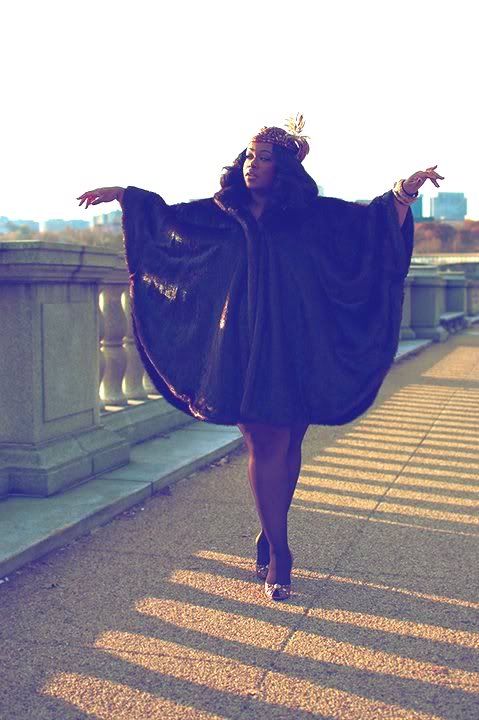 What about FFFWeek™ excited or inspired you enough to seek the Face of FFFWeek™ Title?
Last year I followed the FFFWeek™ team closely. I talked myself out of competing for the face competition. I really wasn't fully ready to commit the time, energy, and I wasn't sure of my place in the industry. I do not regret waiting, I took that time to make myself and my product better. FFFWeek™ is exciting and inspiring in itself. In the past fashion has been exclusionary, the size 12+ girl didn't have a place to sit at the fashion table. FFFWeek™ has and continues to change that. Every year it will just continue to get big and better. They will continue to outdo themselves because the curvy girls deserve it. Plus size women represent a large demographic and our money is just as green as our skinny sisters. Designers are starting to notice and the shift is starting to take place. The movement within the curvy community, the consumers and the power players definitely contribute to the continued success, and that in itself is inspiring.


So…Dish! What are the 'can't live without' items in your closet? Also, which three items are you coveting for the upcoming Spring/Summer season?
There are two things I cannot live without. I love wearing dresses with a cardigan, I adore cardigans. It can give you a splash of color, keeps the air off your arms in the cold office and makes you look preppy chic. The second item are my Jeggings. I have to admit, I resisted looking at them and wearing Jeggings. I think it was the name that turned me off.. LOL. However I bought a pair of Ashley Stewart Jeggings and not only where they comfy, my legs looked amazing and I can pair them with most of my tops. I loved them so much I went back and bought 5 more pairs. I know.. I know.. over the top. : )


Some of the items I am coveting this season is the Monif C Yellow Monaco swimsuit, the Igigi's Emerald Catherine dress, and I am loving the Peter Pan collars ASOS Curve introduced this spring.


[Editor's Note: This lady has great taste, Monif is this year's FFFWeek™ Designer of the Year and that swimsuit--modeled by FFFWeek™ Plus Commercial Print Model of the Year, Fluvia Lacerda--is indeed, one to covet]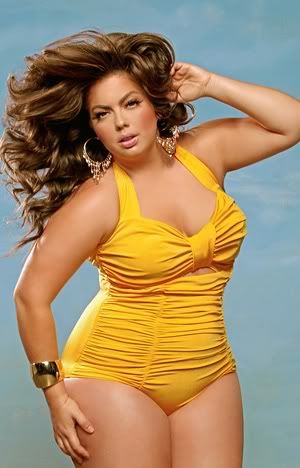 You mentioned that you've never been to FFFWeek™. What are you most excited to do or see at this year's event?
I am extremely excited about meeting a lot of the other models. There are some girls who I chat with via social networks and our paths have never crossed. So it'll be nice to connect with them. It will also be nice to see old friends, bloggers and model and especially those coming from the Washington DC area. It would be awesome to be able to thank the Judges, Gwen and the FFFWeek™ team in person. They have been nothing short of amazing.
I am also ecstatic to have an opportunity to host the red carpet. It's always something I thought about doing and I am so excited for the opportunity.
—————–
Designer Spotlight


In less than two months, all eyes will be on FFFWeek™'s runway and we don't plan to disappoint. While we countdown to the show, take a moment to get to know the talented clothiers behind the garments!


La'Dan's Closet
For too long, full-figured fashion ended where outerwear began. La'Dan's–a portmanteau of founding designers Latresa Harper and Danyelle Freeland's names—ensures that its clientele is chic no matter how treacherous the weather. Read on to learn more about the designer duo and an opportunity to win one of La'Dan's designs!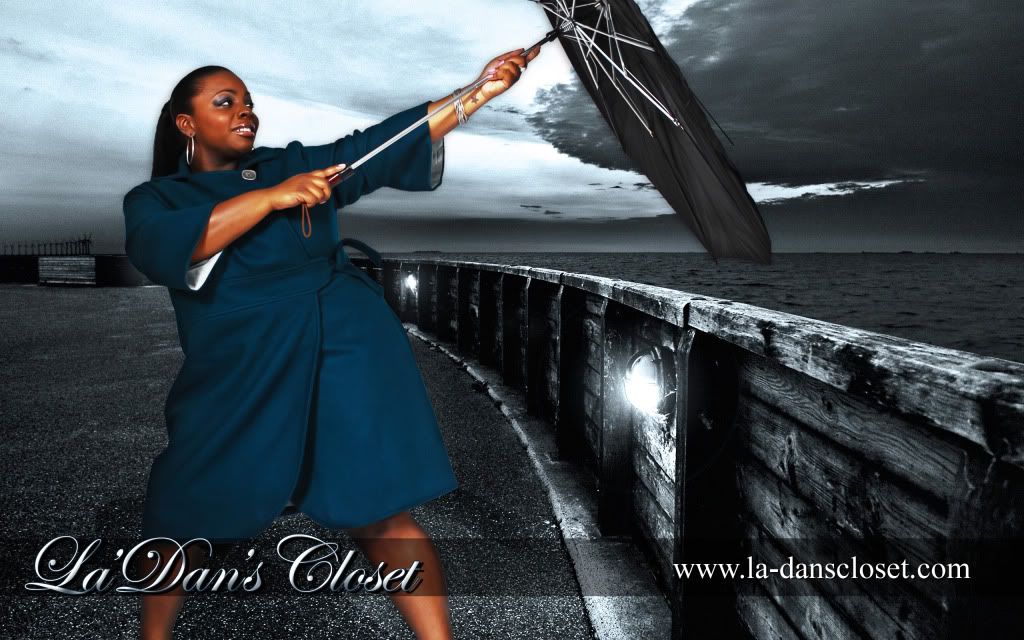 Why a line of coats?
When we first decided to create a line our minds were over flooded with ideas. After reality hit us, we were forced to scale things back. We then decided to start where we felt plus size fashions had one of the biggest voids.


What do you think is different about the plus-size coat as opposed to a straight-size one?
Often times straight size designers will extend their sizes to offer plus size garments. While their efforts are commendable, they sometimes miss the mark. Think about it. A pattern originally made to fit sizes 0-12, that is merely extended to fit up to a size 28, is more than likely not going to have the best fit. La'Dan's Closets' garments are created for us by us and "FIT" is our main factor! We've put a tremendous amount of consideration into the different variations of the plus size body and have a coat that is flattering for every figure!


What three coats/jackets should every woman have in her closet?
Our "Wrap Coat" is by far the biggest seller! Its construction is very similar to that of a wrap dress so it's all the way SEXY! We've sold this coat to women ages 22-62, which well exceeds the ages of our target market! It's a timeless, classic piece that will remain in your closet for years!


Our "Long Vintage Cape" is also a customer favorite! We are totally inspired by vintage pieces and this 60′s inspired cape is a show stopper every time!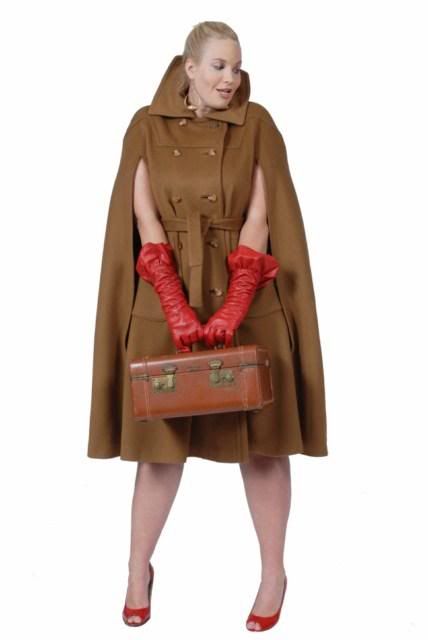 This year we've put an edgy spin on the "Bomber Jacket!". Definitely a must have piece this season!


What excites you about Full Figured Fashion Week?
FFFWeek™ is MONUMENTAL! Gwen and her phenomenal team are working vigorously to create a platform for the Plus Size market that takes us to another level! We are still high from all of the love we received last year and wouldn't miss this for anything!


What can we expect to see on the runway?
Let's just say we're giving the ladies a little something to wear under their coats this year!  So look for La'Dan's Closet to bring the heat once again!
—————–
La'Dan's is offering The Exposed Seam readers an exclusive opportunity. Enter our giveaway and have a chance to win a La'Dan's Closet Coat! They are keeping the exact coat design a bit of a surprise, but just look at their designs; no matter what coat you win, it's going to be gorgeous!

To Enter:

1. Follow us on Twitter and Like us on Facebook
2. Leave a comment and in it, be sure to share your first name, your email address and Twitter handle.
Good Luck!
The Exposed Seam: Behind the Scenes with Full Figured Fashion Week™ is written by Addi Enne, Creator and Chief Blogger of The Curve & the Line; A Blog at the Intersection of Fashion and Form
Comments
Add comment